Transform your family travels with this premium ride-on suitcase, officially approved by airlines
The Stokke® BedBox™ is the world's only ride-on suitcase for children that turns into any seat into bed. This travel essential combines Scandinavian style, aviation-inspired design and practical features to make your journey easier. With this sleep-on suitcase, children from 3-7 years can rest comfortably or nap during both long and short haul flights, plus – there's ample storage for your child's must-haves. Once it's packed, your little one can ride it (or pull it) through the airport terminal, making transport fun and stress-free. After the seat belt light goes off, you can turn the Jetkids™ BedBox™ into a cosy inflight bed in just 5 simple steps.
Over 50 airlines officially approve the BedBox™
!
Personalize the BedBox™ with the stickers included
Spacious interior to store essentials for the journey
NEW FEATURE: Practical storage room inside the lid
Shock absorbing front swivel wheels allows excellent manoeuvring
Multi-purpose adjustable strap allows for carrying or pulling of the BedBox™
Top handle for child to hold while riding
Tired feet can rest on the comfortable foot ledge
For use in planes, trains and ferries, where a seat extender is convenient
Universal and fits most standard economy seats in aircrafts
The extendable lid elongate the seat to create a larger surface area
Mattress and soft side panels create a comfortable space on the seat
Seat belt can be used whether lying down or sitting upright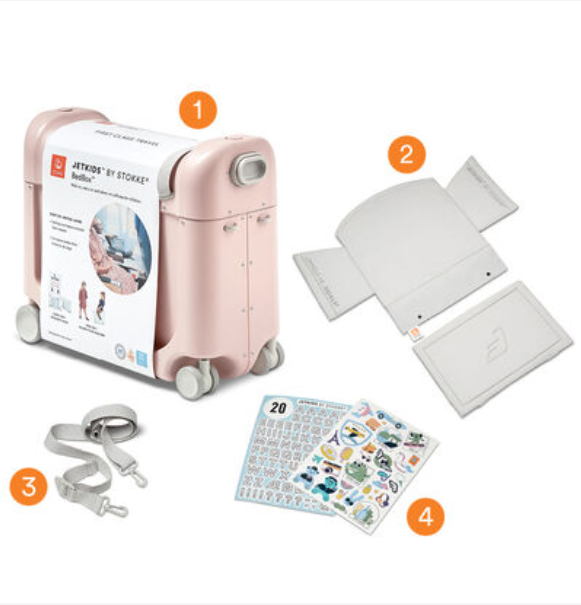 What's included: 
1. Bedbox™ 
2. Mattress and side panels 
3. Adjustable Strap 
4. Two sheets of decorative stickers
46 x 20 x 36 / 18.1 x 7.9 x 14.2
Weight (kg/lbs):
3 / 6.6
Suitable for age:
from 24 ~ to 84 (months)
Volume (litres/gallons):
20 / 5.3